Image
Get Expert Irrigation Services in Florida
Irrigation Maintenance Services
Having an irrigation system makes it easier to take care of your lawn—you don't have to worry about dragging out a sprinkler or remembering to turn the water on. It can also save you money and conserve water! To ensure your irrigation system is working its best, trust the experts here at Venice.
Our experienced team at Venice Pest Control understands the unique challenges that come with Florida's climate. We know how to optimize your irrigation system to withstand the relentless heat and occasional storms, ensuring that your lawn stays healthy and vibrant all year round. Put your trust in our local experts who are well-versed in the best irrigation practices tailored for Florida residents.
Treatments Customized to Your Home
We go the extra mile in maintaining existing systems, making sure they are operating at their best efficiency by: 
Fixing Leaky Pipes: Leaky pipes can lead to water waste and potential damage to your property. Our experts will identify and repair any leaks in your irrigation system, helping you save money on water bills and prevent costly repairs down the line.
Repairing Damaged Pipes: If you have damaged pipes in your irrigation system, we can quickly and efficiently repair them. Our technicians will assess the extent of the damage and make the necessary repairs to ensure your system is functioning optimally.
Replacing Sprinkler Heads: Over time, sprinkler heads can become worn out or damaged, affecting the efficiency of your irrigation system. We can replace any faulty sprinkler heads, ensuring even water distribution and maximum coverage for your lawn.
Maintaining Existing Systems: Regular maintenance is crucial to keep your irrigation system running smoothly. Our team can provide comprehensive maintenance services, including checking for clogs, adjusting water pressure, and performing system tests to identify any potential issues.
Installing New Systems: If you're in need of a new irrigation system, we can help with that too. Our experts will design and install a custom system tailored to your specific needs, ensuring proper water distribution and efficient operation.
Customer Satisfaction Guaranteed
Should you encounter any problems between your regular maintenance treatments, we'll return to re-treat your issue at no extra charge! We stand behind the quality of our work and offer a 100% satisfaction guarantee. If you're not happy with our service, we'll make it right.
Contact Us Today To Get Started
Say Goodbye to Your Lawn Worries
Consistent and adequate irrigation is vital for maintaining a healthy lawn. Our maintenance services will ensure your grass, plants, and shrubs receive the right amount of water, promoting lush growth and preventing damage caused by under or overwatering.Having an irrigation system not only simplifies your lawn care routine, but it also saves you money and conserves water. 
What to Expect from Our Irrigation Maintenance Service: 
1. Thorough Inspection: Our experienced technicians will conduct a comprehensive assessment of your irrigation system, identifying any leaks, damaged pipes, or malfunctioning sprinkler heads that may affect its overall efficiency.
2. Professional Repairs: Once the assessment is complete, our team will promptly repair any issues found, using high-quality materials and techniques. Rest assured that we have the expertise to fix even the most complex problems.
3. System Optimization: In addition to repairs, our technicians will fine-tune your irrigation system to optimize its performance. This includes adjusting the water pressure, spray patterns, and coverage to ensure consistent and uniform watering.
4. Preventive Maintenance: To avoid future problems, our maintenance service includes regular check-ups to catch any issues before they escalate. This proactive approach helps extend the lifespan of your irrigation system and saves you money in the long run.
Image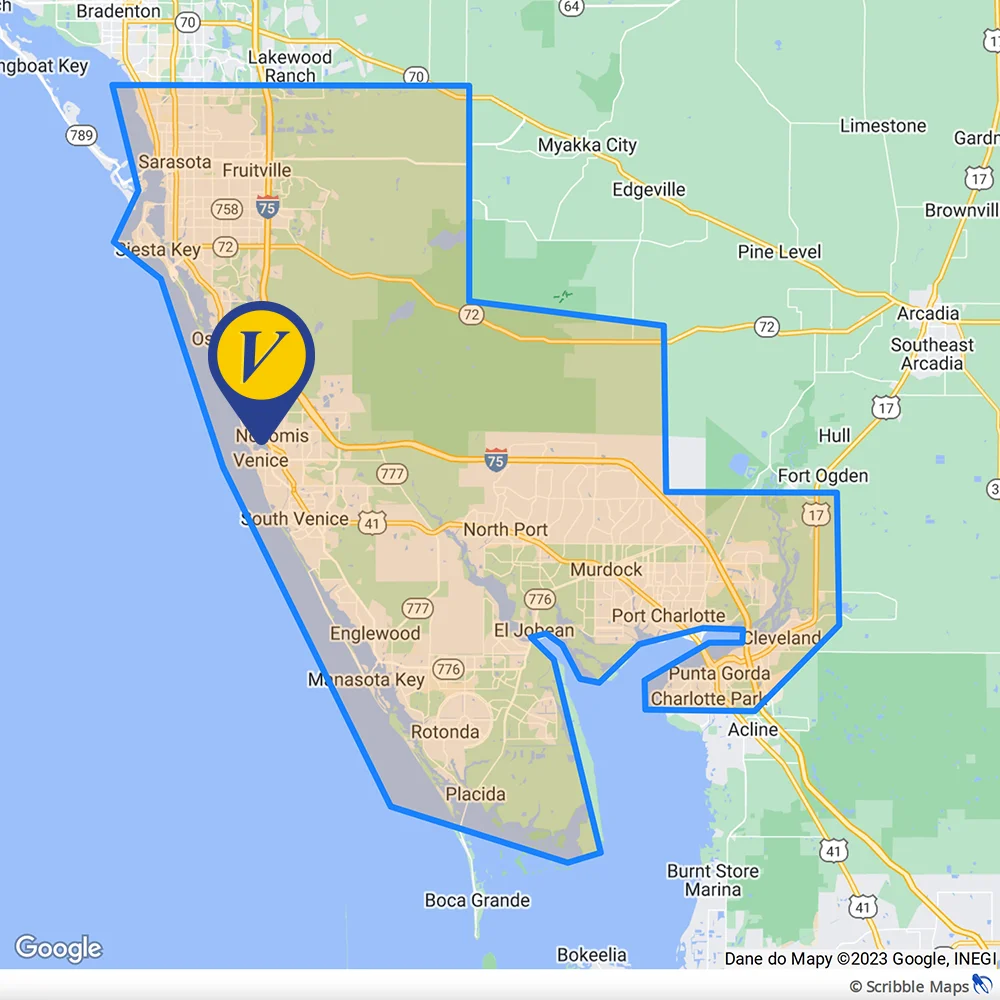 Areas We Service in Greater Venice
As a locally-owned business, we couldn't imagine working anywhere else. We love the communities we serve and value all the relationships we've made over the years. We can't wait to work with you—take a look at our service area to get started.