Image

Get Rid of Termites With Our Effective Treatments!
Local Termite Control in Greater Venice, FL
Termites cause an estimated $5 billion in damages to homes in the United States every single year—that makes them more expensive than storms, fires, and earthquakes combined! If you think you have a termite infestation, don't hesitate to give us a call. The sooner we can start treatment, the sooner we can protect your home.
When you partner with us for termite control, we will:
Perform a comprehensive termite inspect your property to determine the extent of the infestation.

Tailor our approach based on our inspection findings.

Offer treatments for active infestations, as well as preventative treatments.

Treat using Termidor, a liquid termiticide.

Eliminate the entire colony within three months of our first visit.
Call Our Team To Schedule Your Termite Inspection
Our Termite Warranty
Despite the amount of damage termites can cause, termite damage is not covered by homeowners insurance! That's why we offer a warranty in between each scheduled yearly treatment. The best part is that our warranty covers free re-treatments and repairs of structural damage that occurs while the warranty is active.
We even offer pre-treatments for new construction, so that your home can be covered by our termite warranty from day one!
How Termidor Works
Termidor is a liquid treatment that is incredibly effective. Unlike some products, this treatment doesn't repel termites—it's actually completely undetectable to them. This encourages them to crawl through the treated soil, allowing Termidor to eliminate them through contact and ingestion. The infestation will be gone in no time!
Signs of a Termite Infestation
Termite infestations happen quickly, so it's important to act fast. The longer you let them live inside your home, the more damage they'll do to the subfloor, expansion joists, and other important structures.
While a professional termite inspection is the best way to confirm you have an infestation, you can also look out for signs such as:
Peeling, bubbling paint, or wallpaper.

Discarded wings from termite swarmers.

Sagging or very squeaky floors.

Termite droppings that look like sawdust.

Pinpoint holes in drywall.

Mud tubes on the outside of your home.
Schedule Your Free Inspection!
The Best Termite Control Since 1974
We work hard to stay up-to-date on the latest industry advances, ensuring we can give all of our customers exceptional service. We've also been in business since 1974, so we have five decades of experience under our belt! No matter how intimidating or well-hidden your termite problem seems, it's no match for Venice Pest Control.
Image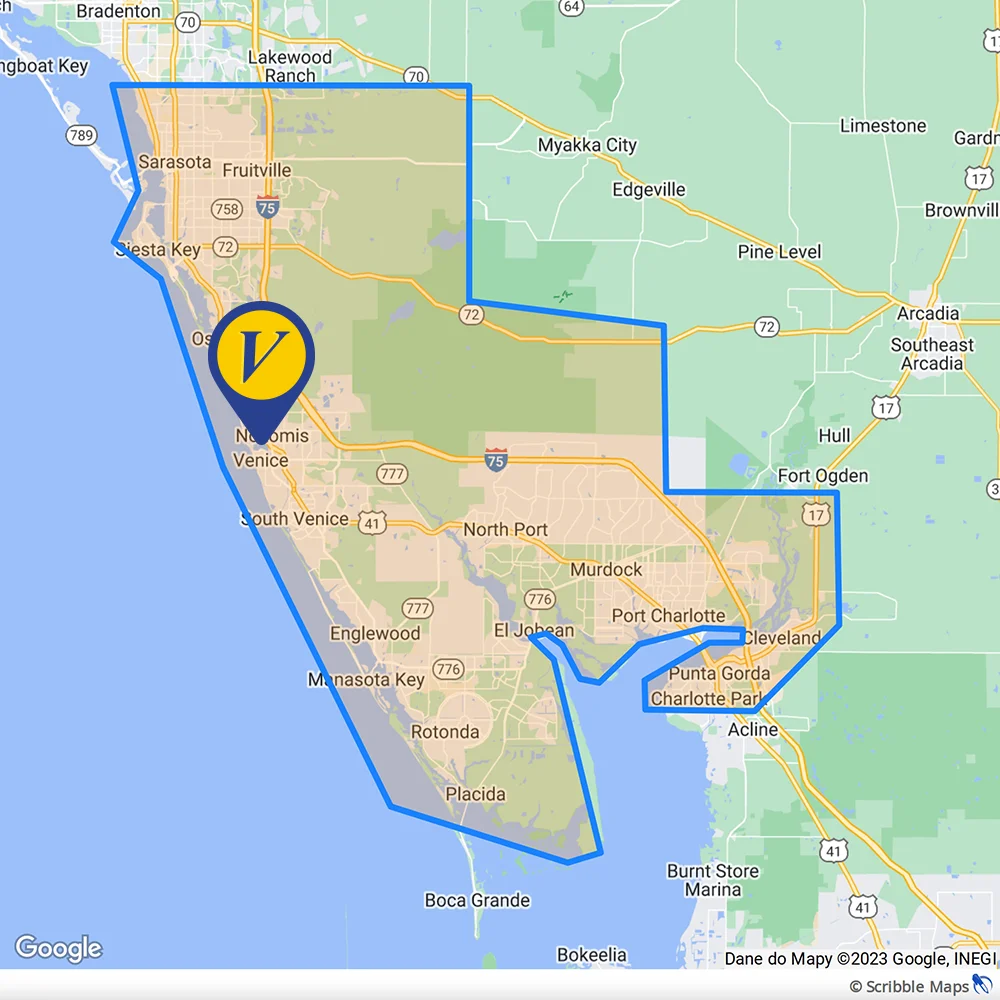 Areas We Service in Greater Venice
As a locally-owned business, we couldn't imagine working anywhere else. We love the communities we serve and value all the relationships we've made over the years. We can't wait to work with you—take a look at our service area to get started.