Providing the Best Local Lawn Care in Sarasota Since 1974
Lawn Care Services in Sarasota
At Venice Pest Control, we understand that finding time for yard work can be a challenge, especially with your busy schedule. That's why our team of experts is here to help! With 49 years of experience in the industry, we offer top-notch lawn care services in Sarasota, Florida. Our goal is to provide exceptional service and results that exceed your expectations. Here are some of the individual lawn care services we offer:
Lawn care: Our skilled professionals will assess your property's health and create a personalized treatment plan to keep your turf looking its best.
Lawn fertilization: We use effective formulas to make your grass healthier than ever before, ensuring it thrives in Venice's challenging climate.
Weed control: Our team utilizes pre- and post-emergent applications to eliminate unwanted weeds and keep your lawn looking pristine.
Aeration and seeding: We offer aeration and seeding services to rejuvenate your turf, promoting healthier growth and reducing bare spots.
Lawn disease control: Venice's climate can take a toll on lawns, but our experts are equipped to handle any lawn disease and protect your grass.
With our local lawn care services, you can expect prompt and reliable service, including same-day service when needed. We pride ourselves on using family-friendly treatments that are safe for your loved ones and pets. Plus, we offer a 100% satisfaction guarantee, ensuring that you are happy with the results. Let us take care of your lawn, so you can enjoy a beautiful outdoor space without the hassle.
Image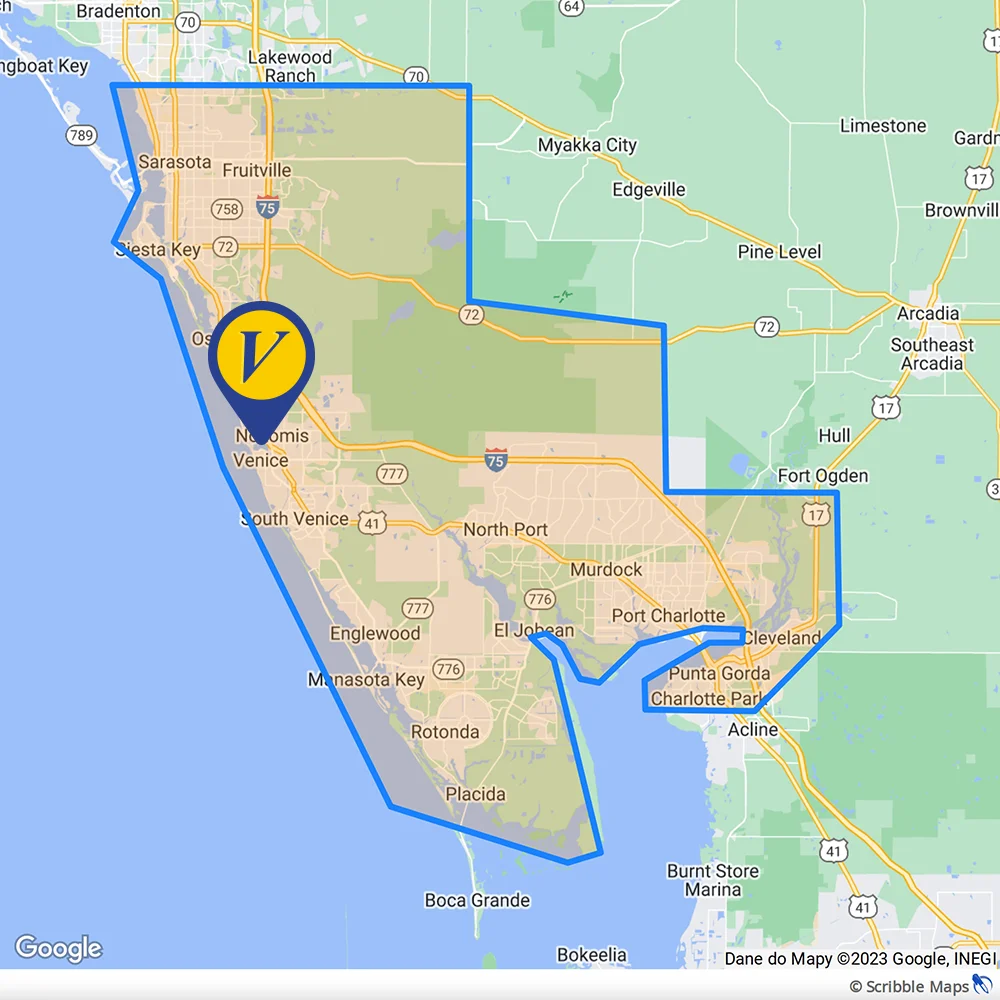 Irrigation Maintenance in Sarasota
The team at Venice Pest Control has a deep understanding of Sarasota's climate and the challenges it presents. We have the expertise to optimize your irrigation system to withstand the heat and occasional storms, ensuring a healthy and vibrant lawn throughout the year. Our focus is on maintaining existing systems to ensure their efficient operation by:
Fixing Leaky Pipes that can lead to water waste and potential damage to your property.
Repairing Damaged Pipes by having our technicians assess the extent of the damage before quickly and efficiently repairing them. 
Replacing Sprinkler Heads that have become worn or damaged over time.
Maintaining Existing Systems with regular maintenance to keep your irrigation system running smoothly. 
Installing New Systems if needed as well as providing a custom system tailored to your specific needs.
If any issues occur during your regular maintenance treatments, we will offer a re-treatment without any extra charges. We have faith in the quality of our work and provide a satisfaction guarantee. If you are dissatisfied with our service, we will resolve the matter.
Tree and Shrub Care in Sarasota
We understand that not everyone has the time or energy to take care of their ornamentals. That's where we come in! Our tree and shrub care is customized to the unique needs of your plants, helping them grow beautifully. When you choose to collaborate with us for tree and shrub care, we will:
A general inspection to Identify any current issues.
Create a customized treatment strategy tailored to your ornamental plants.
Address harmful insects such as aphids, scales, thrips, and whiteflies.
Apply fertilizers to rectify nutrient deficiencies and resolve discoloration.
Establish a regular treatment schedule with options for monthly or bi-monthly applications.
We also specialize in shrub care and offer deep-rooted palm care for exotic plants and tropical palms. Trust our team of experts to take care of your trees and shrubs, and we guarantee 100% customer satisfaction. Call us today to schedule an appointment with our experienced arborists!